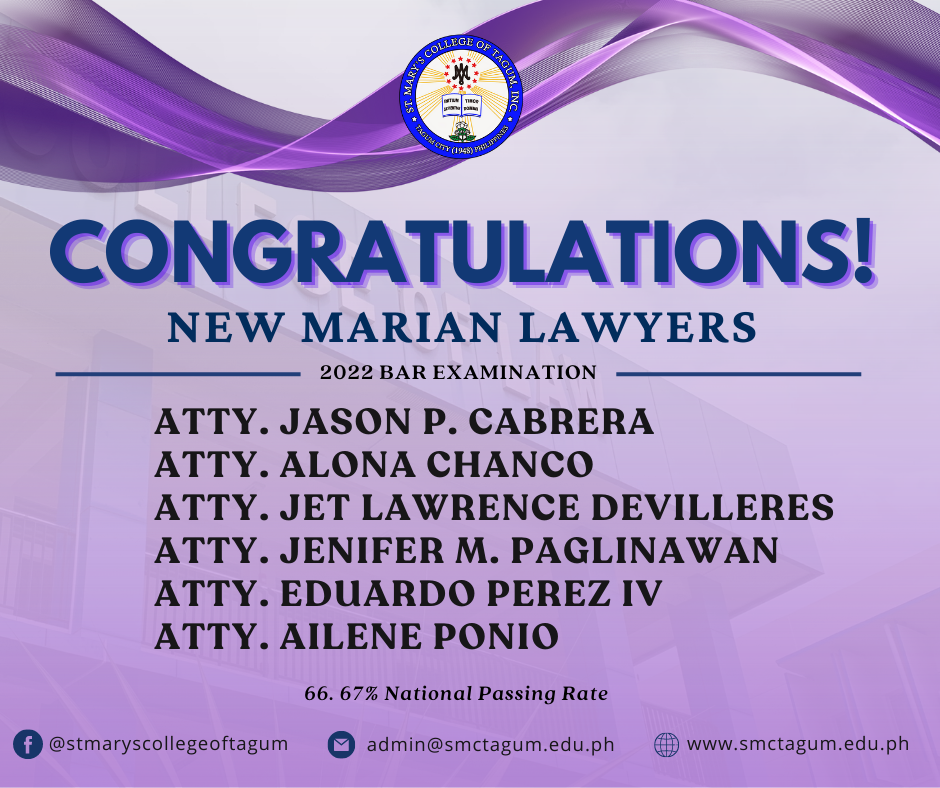 Six (6) SMCTI Juris Doctor Program students passed the April 2023 Bar Examination having a national passing rate of 66.67% making SMCTI ranked 5th in the 2023 Bar Examination among 21 Philippine Law Schools with one (1) to 10 candidates.
The new Marian lawyers are 𝗔𝘁𝘁𝘆. 𝗝𝗮𝘀𝗼𝗻 𝗣. 𝗖𝗮𝗯𝗿𝗲𝗿𝗮, 𝗔𝘁𝘁𝘆. 𝗔𝗹𝗼𝗻𝗮 𝗖𝗵𝗮𝗻𝗰𝗼, 𝗔𝘁𝘁𝘆. 𝗝𝗲𝘁 𝗟𝗮𝘄𝗿𝗲𝗻𝗰𝗲 𝗗𝗲𝘃𝗶𝗹𝗹𝗲𝗿𝗲𝘀, 𝗔𝘁𝘁𝘆. 𝗝𝗲𝗻𝗶𝗳𝗲𝗿 𝗠. 𝗣𝗮𝗴𝗹𝗶𝗻𝗮𝘄𝗮𝗻, 𝗔𝘁𝘁𝘆. 𝗘𝗱𝘂𝗮𝗿𝗱𝗼 𝗣𝗲𝗿𝗲𝘇 𝗜𝗩,and 𝗔𝘁𝘁𝘆. 𝗔𝗶𝗹𝗲𝗻𝗲 𝗣𝗼𝗻𝗶𝗼.
The whole SMCTI community lauds the collective efforts of the Juris Doctor Program Faculty headed by their Dean, Atty. Daniel D. Besina, Jr., RN, MN.